Crossover voters helped pass roads tax opposed by most voters in Central, southeast EBR

While the city-parish as a whole voted Saturday to approve Mayor Sharon Weston Broome's roads tax—with a healthy 61% approval—voters in Central and Shenandoah strongly opposed the 30-year, half-cent sales tax, which is expected to generate more than $900 million for some 70 projects.
Though a couple of major road improvement projects in Central are among the first the administration promises to tackle once it bonds out money for the program, Central's typically anti-tax voters were apparently unimpressed. In some Central precincts, fewer than 25% of voters supported the measure.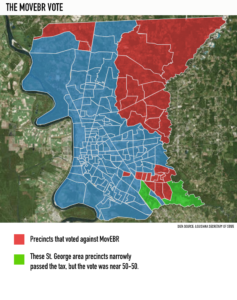 Large swaths of the rural, northeast part of the parish also voted overwhelmingly against the tax. Residents in the unincorporated southeast part of the parish—specifically, Shenandoah and Old Jefferson—also opposed the measure, though not nearly by the same margins as those in Central and the northeast.
While those voting patterns are not particularly surprising, given the strong, anti-tax sentiments among white, conservative voters who live in those areas, what is unusual is the support the tax received from white suburban voters elsewhere in the parish. Precincts along Highland Road and near Country Club of Louisiana, for instance, supported the tax, which may have helped make the difference, according to political pollster Bernie Pinsonat.
"Considering how hard it is to pass a tax, in this one there were enough white, conservative voters who thought this would help ease traffic so they went out for it," he says.
Highly publicized support of the tax from bipartisan business leaders like Jim Bernhard and Mike Wampold likely factored into that support, Pinsonat says. But he cautions against interpreting the victory as a widespread show of support for the Broome administration or new taxes.
"Some 46 percent of East Baton Rouge Parish is black and would have likely supported this tax so you don't need that many crossover white voters to make it to the finish line," he says. "So this tax was popular with enough whites to pass but that does not mean it was something the majority of white voters actually wanted."