Deepening Mississippi River will benefit Baton Rouge industry

GO DEEP: Jay Hardmann, executive director at the Port of Greater Baton Rouge, says a consistently maintained 50-foot channel would have a significant economic benefit for the Baton Rouge region. (Photo by Brian Baiamonte)
---
If an Army Corps of Engineers plan to deepen the Mississippi River channel to Baton Rouge moves forward, as appears likely, a variety of industries along the river will undoubtedly benefit. The goal of the $237.7 million project is to increase channel depths to 50 feet, up from 45 feet, enabling owners to load existing ships to capacity—instead of periodically "short loading" them—while also allowing larger vessels to traverse the waterway.
The plan passed a major bureaucratic hurdle this summer when Corps Senior Civil Engineer James Dalton recommended approval, saying in a press release that the deepening project is "economically justified and environmentally sustainable."
Dredging the channel would make ports along the river the first on the Gulf Coast to reach the same depth as the Panama Canal, paving the way for new Panamax vessels to reach Baton Rouge. The vessels, which require a draft depth of 49.9 feet, would have clear sailing the entire 256-mile stretch from Southwest Pass to Baton Rouge, provided their superstructures fit below the Crescent City Connection bridge in New Orleans.
Marti Lucore, Corps-New Orleans District senior project manager, says dredging to 50 feet would be a significant boon to the U.S. agricultural and petrochemical markets. Led by a team of a dozen engineers, the New Orleans District recently concluded a three-year study to determine the project's cost-benefit ratio over a 50-year period. The Corps predicts that the five-foot increase would result in average annual benefits of $127.5 million to the nation's economy, compared to average annual costs of $17.7 million.
The desire to deepen the channel is not new. In 1985, the Corps was authorized to deepen the waterway from 40 to 55 feet, but the Louisiana Department of Transportation and Development set the limit at 45 feet due to the cost-sharing requirements of the time. Under the Water Resources Reform and Development Act (WRRDA), the federal government would pay only 75% at 45 feet, with the remainder paid by DOTD. Going deeper dropped the cost-share to a 50-50 split, an expensive pill to swallow, since maintenance dredging can reach $100 million a year.
The 2014 iteration of WRRDA changed all that, increasing federal funding levels to 100% for up to 50 feet. Still, it could be another two years before funding for the current deepening project is allocated in the budget.
Problem areas
The initial focus of the channel deepening will be near Southwest Pass and at 12 river "crossings" between LaPlace and Baton Rouge. "About 11 miles north of Head of Passes is where we'll start dredging for navigable depth … the last 30 miles of the river," Lucore says. "Then, between LaPlace and Baton Rouge we have areas where the channel crosses from one side to the next and sediment builds up."
Once the dredging is completed over a two- to three-year period, Panamax ships will be able to reach Baton Rouge unhindered. "Maritime users would also be assured of a deeper draft (in normal conditions)," Lucore says. "They'd be able to plan for a certain depth and be able to ship more product or receive more raw materials." She adds, however, that low river levels could still impact the ability of ships to go up and downriver.
Jay Hardman, executive director at the Port of Greater Baton Rouge, says a consistently maintained 50-foot channel is a long time coming. The port has been studying ways to reduce costs, such as through shorter berthing and loading times, and a deeper channel would be a sizeable step toward that goal. Situated at the convergence of the Mississippi River and the Gulf Intracoastal Waterway, the port currently spends about $173,000 annually on dredging around its facilities.
"You get a tremendous advantage in how much cargo you can put on a vessel," Hardman says. "We can start looking at taking each of those ships and sinking it down to 50 feet. It's the transportation logistics savings that drives it. Our liquid bulk handlers—Genesis Energy, ExxonMobil, etc.—stand to benefit. It's just the economies of freight movement."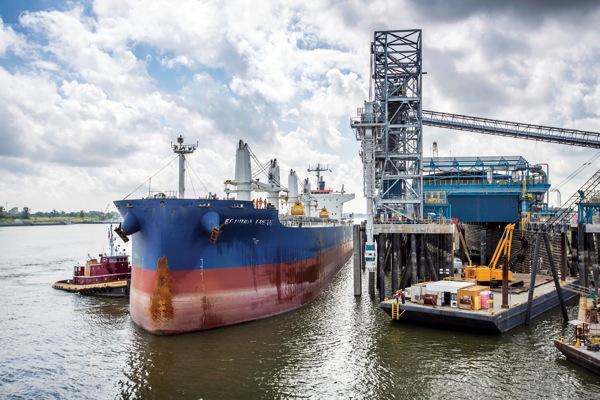 ---
Paul Aucoin, executive director of the Port of South Louisiana, says maintaining a 50-foot depth should be a national concern, as some 100,000 barges come through the port loaded with grain, coal and aggregates, among other products. In fact, 6% of the grain leaving the U.S. goes through the Port of South Louisiana. "We have dozens of industries along the river, and they all have imports and exports," Aucoin says. "If you're loading a vessel and there's a 41-foot restriction at the mouth of the river, that vessel becomes 'light loaded' instead of filling it up." He says that equates to about $1 million a foot in lost revenue, a problem that could one day prompt some companies to take their business elsewhere.
"What draws industry to our area is the river, available sites, cheap and abundant natural gas, and a productive work force," says Aucoin. "Keeping everything at 50 feet would make us unbeatable."
Stephan Pierre, site logistics leader at Dow Chemical in Plaquemine, says he's not aware of any current plans by his company to take advantage of a deeper channel, but agrees that a consistently maintained depth is necessary to keep product moving. Pierre coordinates logistics at Dow, as well as provides logistics services for various Dow tenants.
Dow transports a variety of liquid products by river, including caustic soda, propylene and other hydrocarbon-based chemicals. Like most industrial owners, the Plaquemine plant is responsible for maintaining adequate depths around its own docks, while depending upon the Corps to maintain the channel. Should larger vessels begin making the journey to Baton Rouge, Pierre says plants would first need to adapt existing berths, and install new loading and offloading equipment to accommodate the size of the vessels. "You can't load every ship that's in existence, because configuration-wise it won't work."
Vanessa Bourne, logistics manager at Shell's Geismar plant, says incoming and outgoing deliveries at the plant are already designed for a lower draft, so the channel deepening would have no immediate impact on her operations. Shell loads both inland barges and medium-sized chemical tankers. "The typical vessel sizes that we receive do not normally have a draft greater than 40 feet," Bourne says in a prepared statement. "On occasion, we'll have a vessel with a maximum draft in the 42-foot range. However, we limit vessels to a maximum of 40 feet while alongside our facility."
As the most immediate beneficiaries of the river deepening, the agricultural market has been especially engaged in promoting the initiative. The stretch of the river from Baton Rouge to the Gulf of Mexico accounts for 60% of U.S. soybean exports, along with 59% of corn exports.
A recent report produced collaboratively by The Big River Coalition, the Soy Transportation Coalition and Informa Economics predicts the deepening would expand the "draw area" for farmers shipping their exports via the Mississippi River, decrease shipping costs of soybeans by up to 13 cents per bushel, and significantly increase soybean revenues.
"The impact of the deeper draft on the lower Mississippi River," reads the report, "will save $5 per metric ton in ocean freight as the average weight loaded onto ocean going vessels increases from 66,000 to 78,000 metric tons."