The world of the nanoinfluencer comes to Baton Rouge

FOLLOW ME: Nanoinfluencer Ashton Anderson uses Instagram to pitch products from some 15 brands to her 1,650 followers. (Photo by Collin Richie)
---
Ashton Anderson didn't learn how to curl her hair until Bed Head, a haircare and nail product line based out of the United Kingdom, sent her a wand for free. If she liked the wand, she told the company she would post about it on her Instagram account, tagging the brand in hopes that they'd send her a flat iron the next week.
By day, Anderson, 28, writes press releases and handles all digital and social media content for the Louisiana House of Representatives as its communications coordinator. Come night, she's at Charming Charlie's, working her other job as a stylist. And whatever free time she has left—usually Sundays—she reserves for planning a week's worth of sponsored or promotional Instagram posts.
With roughly 1,650 Instagram followers, Anderson has a relatively normal social media presence. But it's enough for some 15 brands—ranging from the Kohl's clothing line Candies to Dunkin' Donuts—to approach her about advertising their products.
"It seems more genuine coming from a person of a smaller scope," Anderson says. "It's just like advice from a friend."
Enter the nanoinfluencer. It's the term used by companies to describe people who have as few as 1,000 (and as many as 5,000) followers, who are still willing to advertise products on social media, specifically Instagram. The trend, though national in its scope, appears in Baton Rouge through mostly young women building their social media portfolios.
Retailers like them ("nanos" for short) because they're approachable and easier to deal with than, say, a disconnected social media influencer with three million followers who lives in Los Angeles. In exchange for free products or a small commission, nanos typically say whatever companies tell them to.
The trend is quietly playing out in the local retail scene, particularly among smaller boutiques and the like. And the pool of Baton Rouge nanos is only growing as social media savvy 20-somethings up their pitching techniques.
"Larger influencers can become almost as pricey as media buying these days," says Gabby Murphy, the 24-year-old creative lead for the Capital Region Builders Association who doubles as a nanoinfluencer. "It's easier to find bloggers or influencers who just have 1,000 to 10,000 followers and give them a free ticket to an event that they can help promote."
The cost-effectiveness and overall ease of business make nanos the future of retail marketing, and Baton Rouge is taking note.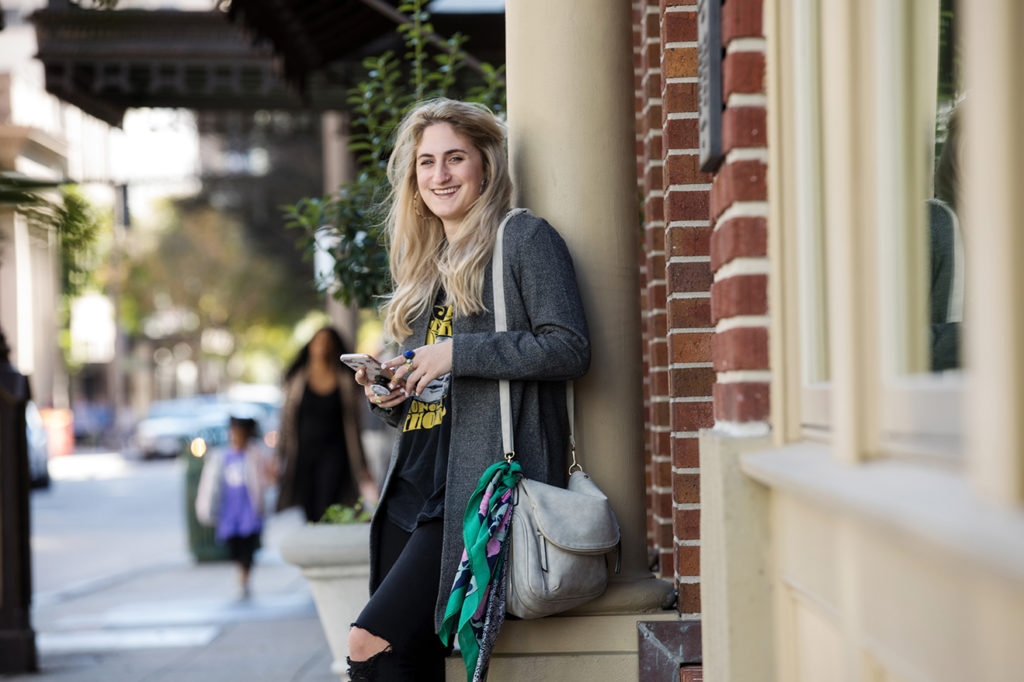 ---
TIT FOR TAT
How it works is up to retailers and nanoinfluencers. Sometimes, retailers tap into their regular client base, asking a loyal customer to promote a product on Instagram. Some say it's essentially free marketing with a measurable payoff.
Madeline Ellis, co-owner and creative director of Mimosa Handcrafted, says she has gotten more intentional about how she markets her jewelry to potential customers. Occasionally, she'll give a good customer a free bracelet or necklace and ask her to post a picture with it on social media, using the hashtag #MimosaInTheWild and tagging the business.
"It's more organic than going and finding a list of influencers who don't know who we are, so we look within our community," Ellis says. "It doesn't feel like a business transaction—it feels like a fun way to market ourselves."
When determining who to approach about advertising one of her products, Ellis says she looks to see if their online "brands" are aligned—meaning they're passionate about Baton Rouge—and whether they have a high engagement rate.
Engagement is the upper hand most nanos have against the average social media influencer, says Murphy, whose engagement rate is at 15%—about quintuple that of the average Instagram account, which hovers around 3%. The media kit metric has earned her a free hotel stay in Denver and a free dining experience in Puerto Rico in exchange for a few mentions on her blog and a couple Instagram posts to her 1,593 followers, both of which she solicited.
Jen Olano, a 27-year-old wedding photographer, already had an engaged fan base through her lifestyle blog, Tend and Flourish. Since she became a nano over the summer, she has not even had to reach out to any companies—they've all been reaching out to her.
Still, she's selective about who she works with. Olano says she's been told by other influencers to work exclusively with brands that trade promotional posts for free products. It's the best bang for your buck, they say.
"I get a lot of inquiries from brands that only want to give you a discount, but I turn those down," Olano says. "I only work with the ones that do a complete trade."
After receiving about $100 worth of free products from one of the five brands she currently works with, Olano will dedicate a post to each product and share a discount code with her 2,036 followers so they can buy a product online.
Sometimes, she says, companies tell her to write two posts before a certain date and post one Instagram story about some of their products and mention a new deal they're offering.
Her arrangements are quite lax compared to other nanos', many of whom are required to get their content approved by the brand before posting.
Such is the case with Anderson. Before a brand sent her a pair of jeans, they requested she take the picture wearing a plain white shirt so that their brand of jeans was the only thing she was advertising in her post. They also gave her a two-week deadline for two Instagram posts and approved her caption, throwing in some additional hashtags.
Every so often nanos will receive a small commission for posting.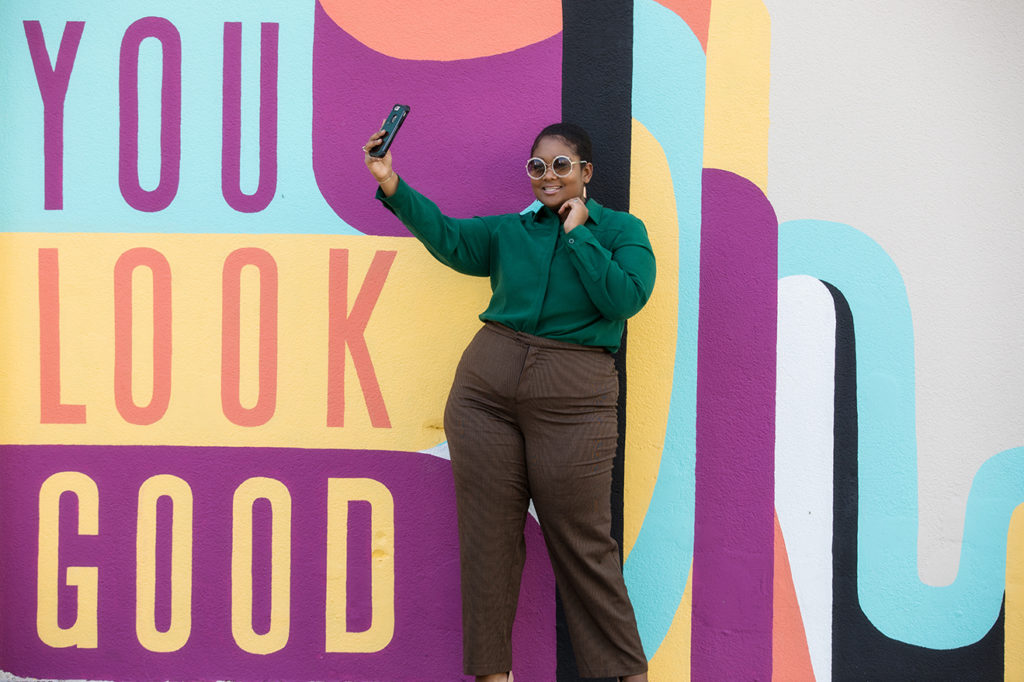 ---
Emily Sharpe, a 21-year-old LSU student majoring in communication studies who broke into nanoinfluencing through her part-time modeling career, received $10 per post for three posts promoting hair extensions from a Baton Rouge salon. And she's been offered as much as $500 to do a series of posts and Instagram Stories about vape pens, which she ultimately declined because she wasn't a user of the product.
In addition to baskets filled with makeup, jewelry and clothes, Sharpe also gets a small commission every time someone uses her promo code to get a 20% discount on clothes from Shein Official.
But for Sharpe, it isn't about the money; she views free products as fair compensation, too. Nanoinfluencing opens up plenty of networking opportunities within the local fashion community that she wouldn't have gotten otherwise, she says.
"Having a smaller follower base lets you have a more personal connection with your followers," says Sharpe, who has some 4,580 followers and hashtags all her posts with #livingSharpe. "It lets you have more control over your brand."
Nanos also reflect the collective consumer voice of millennials and, even more so, Generation Z.
"If I walk into a store, I'm not going to listen to your sales rep," Murphy says. "But the blogger who I follow who tells me to check out this sweater or check out this brand—I trust them and I like their style, and I'm more likely to buy what they're selling me."