Business lessons from Lee Berg

---
In 1978, Lee Michael Berg and his wife Brenda, both Dallas natives, moved to Baton Rouge to open a jewelry store in Cortana Mall. Four decades later, Lee Michaels Fine Jewelry has established a $50-million-a-year business empire in Baton Rouge, with nine locations across four states. In 2016, Berg handed the reins over to his three sons, calling the process of letting go one of the hardest things he's ever done. But that's not to say Berg isn't still involved. Business Report sat down with him recently to talk about the transition, as well as the years he spent building the business.
Choosing Baton Rouge
Before starting his business, Berg worked for Zales, where he became senior vice president and moved to New York. In 1977, with a loan from his grandfather, he left to open his own jewelry store. Berg wanted to return to the south and his father told him about Cortana Mall, a popular shopping destination in Baton Rouge, so he flew down for a visit. The market size was perfect—not too small and not too big. Although it was difficult at the time to land a mall location, especially for a new business with no track record, Cortana took a chance on Berg, and he opened his first LMFJ store in the mall, nestled between a Karamel Korn and a Space Port.
The right place at the right time
When Berg and his wife were on their honeymoon in Paris, they happened to be seated next to the president of Rolex while eating dinner. The couple was discussing bracelets for Berg's Rolex watch, so the man sent his card to their table. They ended up chatting over a bottle of champagne, and Berg remained in touch afterward. Four years after opening LMFJ, the relationship paid off and Berg became a Rolex distributor—a distinction that sets jewelry stores apart from the rest, he says. The story goes to show the importance of seizing opportune moments. Today, Rolex makes up 20% of LMFJ business.
Building a brand
"If you walk into any one of our stores, it would not require a sign over the door to tell you we're Lee Michaels," Berg says. From the bright red box tied with a black satin bow to the finest names in jewelry, the Lee Michaels brand is among the most recognizable in the city. And that's no accident. The company prides itself on its strategically consistent advertising and marketing efforts, Berg says.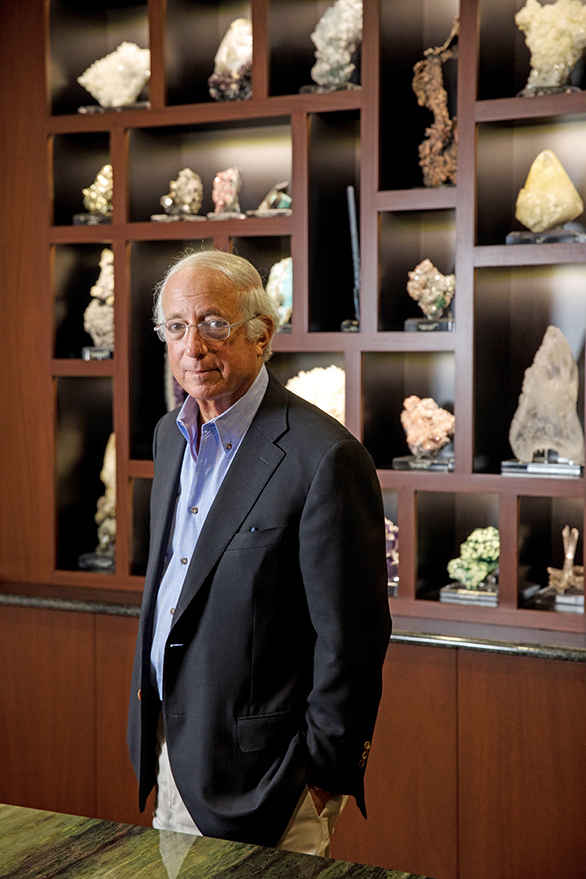 "In order to appreciate success, you need to understand failure."
—LEE BERG
---
Company culture
Business owners can control the look of stores, advertising and merchandise, but if those who work for them don't share the same values and passion of the company, culture is lost, Berg says. So how does LMFJ do it?
Running the business from the bottom up, not top down. "The more people you bring into the process, the better input you get," Berg says. "When people feel like they're part of something, they buy into it."

Testing the company's top performers and pairing them with new hires to ensure a good fit.

Training new employees through a LMFJ "university" program, and graduate training for seasoned staff. The company also encourages associates to be trained and certified in gemology.
Failure
"In order to appreciate success, you need to understand failure," Berg says. It's a lesson that took a while for him to learn. Berg first grappled with it when he flunked out of college his first year. He didn't like the feeling, so he returned and graduated. He would meet failure again each time he had to close an underperforming LMFJ store. The company shuttered three, one each in Hammond, New Orleans and Mobile. It was difficult for Berg, who used to refer to his stores as his children and never wanted to give up on them. But he learned to let go of what isn't working and focus instead on what is.
Giving back
Berg's business savvy is derived not only from running a company, but also from serving on nonprofit boards. His involvement has spanned several organizations, from hospital boards to the Baton Rouge Area Foundation, and industry associations. Service opened his eyes to the needs of his community and allowed him to lead by example in terms of giving back. "I got more out of it than I gave," Berg says. When a local nonprofit needs a partner, he says he wants them to think of LMFJ first, just as he would a business partner or distributor.
The next generation
When you build a business from scratch—and know it as well as Berg knows his—it can be exceptionally difficult to step away. "I've been working on transitioning to my sons for 15 years," he says. But he takes comfort knowing his sons—Ryan, Scott and Chad—are more familiar with the world today, which is different from the one he grew up in. And they stay in close contact, consulting with their father on a daily basis.
But there must be boundaries in family business. The Bergs meet with a facilitator a few times each year and have drafted a family charter. Among the agreed-upon guidelines:
Spouses cannot work for the company.

Children must work elsewhere for two years. Berg abided by this rule with his own sons. "It knocks off the rough edges," he says, "and gives them a different perspective of the world and how others do things."

Relatives start off at the same wage as anyone else.
As for the future, Lee Michaels has the infrastructure to build a bigger business, Berg says, but what his sons do with it is up to them. Berg and his wife, meanwhile, are spending more time away, often visiting a home they have in California. But Lee Michaels is always with him.
"The business is on my mind all the time."